I love Christmas in July. It is so great to be able to spend the entire month thinking about Christmas and to have thoughts of cooler weather! It has been in the triple digit here this week and the humidity is horrible. My central air doesn't seem to ever shut off.

But, despite the heat, I spent Saturday morning on my usual rounds of garage and estate sales. Well, to be honest, I didn't go to a lot of them, but I did find some cool Christmas items.

In honor of my CIJ celebration that officially kicks off tomorrow, I am showing you three of my Saturday finds. Tam at Gypsy's Corner hosts this Three or More Tuesday event on her blog. So, this week, I am giving it a Christmas flair. Click on her link to see her weekly items and a list of all the participants.

First is this adorable Christmas throw. I paid $3 for it.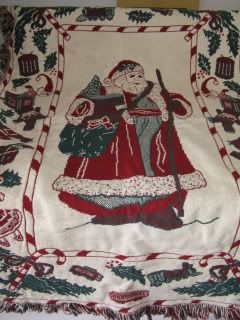 Next is a wooden sleigh. I don't know where I will use it, but it is so pretty. It was also $3.




My third Christmas find for the week was a set of dishes featuring snowmen. They can be used even after Christmas for awhile. I got four each of dinner plates, small bowls, larger bowls, salad plates and a salt and pepper shaker. The entire set was $5.




Thanks for visiting me today. Don't forget to stop by Tam's and the other participants this week.

Be sure to come back during July and read my daily posts devoted to all things Christmas. I will have information up tomorrow about a giveaway and the way to enter to receive some exciting Christmas stuff. My Playing Dishes blog will also feature a holiday event this month.