Wow, what a great response to my first weekly giveaway in celebration of Christmas in July. I had to find an appropriate container to hold all of the weekly entries, so I chose this adorable Santa mug. I think it is so cute.



After spending a long time reading and re-reading all the comments and looking at websites for my added meme and shoutouts, I finally had a complete list of all this week's entries. I added each one to a small piece of paper (recycled from old copies of course) for each entry. Gee, this was more involved that I thought.

Here is the little cup just waiting for the drawing. Remember that all names remain for the entire month of giveaways. But, be sure to come back and enter again each week for more chances to win.




THE WINNER OF THE FIRST WEEKLY CIJ GIVEAWAY AT CHRISTMAS MEMORIES IN MY HEART IS:

CAROL KENNON AT MY WORLD ANYTHING BUT ORDINARY!

Carol you are now the proud owner of this elf car costume.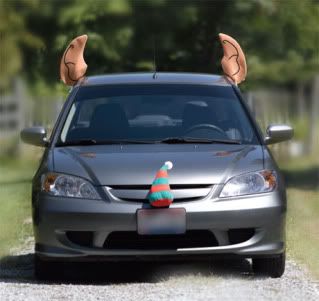 Send me your address by email and I will get it send out to you. (printersdevil72@yahoo.com). Be sure to put 1st CIJ Giveaway in the subject line.

Thanks to everyone for posting comments, adding my meme to your blog, giving me a shout out and the other things that you did to announce this giveaway. Ginger at Magical Holiday Home even added me to the front page of that wonderful site for this first day of Christmas in July. She is featuring a new Christmas blog daily during CIJ. Be sure to check out her site and the others listed in my sidebar for some great Christmas inspiration year round.

I'm sorry that I am so late in posting this winner. I have had a little trouble focusing since I had to put my beloved Blackjack to sleep on Tuesday. Then I had 10 for dinner last night and I had to be sociable. At midnight, it hit me that it was a little more time consuming than I anticipated in compiling all the entries. Then, I crashed and slept way late this morning. I will do better next week.

The giveaway for the 2nd weekly giveaway from Christmas Memories in My Heart will be this cute little silver Santa's sleigh. It includes several body pamper products and is wrapped in plastic with a ribbon and a gift tag. After using the products, the sleigh will make a cute addition to your holiday decor. Sign-ups for the second weekly giveaway end at midnight on Wednesday, July 8. Winner will be announced the next morning.




Don't forget to check back and see what is happening all month. Also, there is a list of other holiday blogs in my sidebar. I am spending way too much time reading! I am even neglecting my Playing Dishes blog! Be sure to also stop by my favorite Christmas webpages also listed there.

Happy Christmas in July!
Felecia