In order to add your name to my weekly Christmas in July giveaway, leave me a comment on one of my posts. Entries for the weekly drawing cut off at midnight on each Wednesday in July. The winner will be announced on Thursday. Be sure to check back to see who wins each week.

To have two chances to win, also add my Christmas in July meme to your blog. For a third chance in this drawing, give this blog and the weekly giveaways here a shoutout post on your blog. A fourth entry can be added to this drawing by adding your name as a follower of Christmas Memories in My Heart. Refer someone new to my Christmas blog and have them mention your name/blogname for a fifth chance in the drawing.

If you don't have a blog and are entering the drawings for the giveaways, be sure to leave me an email address to contact you. You can just post in the comments that you are sending me the email address.My email is www.printersdevil72@yahoo.com
That way you don't have to post yours on the web.

Remember, I will be posting something every day during CIJ. Be sure to stop by often and leave me comments. After each random drawing for weekly giveaway, all entries will remain in the pool for the following week. So, keep coming back for more chances to win.

Week 1 Giveaway on July 2: Car elf costume

Congratulations to Carol Kennon @ My World Anything But Ordinary who won the elf car costume.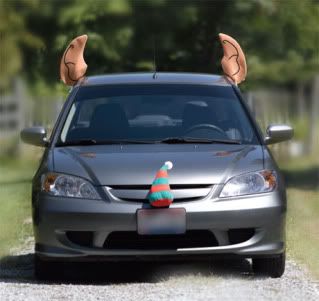 Week 2 Giveaway on July 8: Silver metal Santa sleigh with bath products.


Remember all entries for Week 2 must be in by midnight central time on Wednesday, July 8. Entries after that time will go in the next giveaway drawing.

Entries remain in each successive week's drawings.

Good luck! Visit often to add entries for the drawings. You can add comments or memes or shout outs each week. I love to hear from you.

Felecia~printersdevil