I thought since my pictures of my Holiday Home Tour are not ready (see post below) that I could at least share some Christmas spirit with you until I get my photos posted. The following three photos are from a holiday tea at my church. It is called "The Gift" and tables are sponsored by women of the church and the individual tables were stunning. A friend and I plan to host a table next year.
Hopefully these will help bridge the gap until I get my home tour photos up on my blog.
The first is the beautiful tree that adorned the stage area at the front of the church during the tea.


The next two are of the rest of the stage area and the beautiful setting backdrop. Tables were set up throughout the sanctuary. Thankfully, the chairs are all moveable, allowing for the sanctuary to be used for things like this. It was beautiful and very inspirational and uplifting. The book, "A Cup of Christmas Tea" was read. If you are not familiar with the story in this little book, I highly recommend you picking up a copy of it. It was written by a man, but during "The Gift" it was read by a woman to go along with this year's theme, A Cup of Christmas Tea.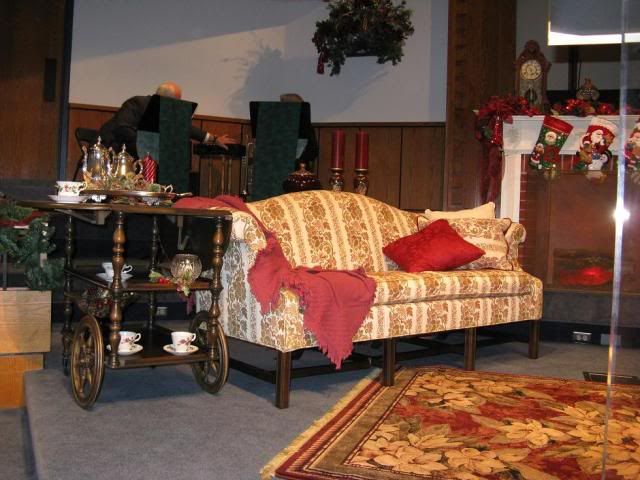 I hope that you enjoyed looking at these photos of this tea.

Remember to return on Tuesday, Dec. 16 for the tour of my home and holiday decorations.